ICLR contributor information
About us
International Construction Law Review is a leading authority on global construction law trends and challenges. Each quarterly edition includes in-depth commentary on key case law, statutory and industry issues affecting practitioners and construction industry professionals. The journal also features regional practise updates from common and civil law jurisdictions around the world and reviews of significant reference texts.
Subject areas covered include:
International arbitration
Offshore construction projects
The use of FIDIC contracts
Insolvency
Enforcement
Procurement
Risk management
Engineering
Delay and disruption
Public private partnerships
Jurisdictional scope
International Construction Law Review currently has country correspondents in Australia, Austria, Brazil, Canada, Denmark, Egypt, France, Germany, Hong Kong (SAR), Iraq, New Zealand, Pakistan, South Africa, Spain, Sweden, Switzerland, UAE, UK and US and is always seeking to expand its geographical coverage. Contact kate.clifton@lloydslistintelligence.com for more information.
Author guidelines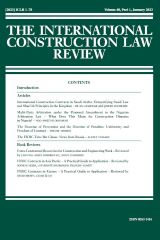 International Construction Law Review welcomes the submission of article synopses and drafts for editorial consideration. If you have written a paper that you would like the editors to review, or are working on a previously discussed brief, please consider our Notes for Contributors.
For any editorial queries, please contact eleanor.baylis@lloydslistintelligence.com.
2023 Publishing schedule
| | | |
| --- | --- | --- |
| Edition | Deadline for contributions | Publication date |
| Part 1 January 2023 | 7 November 2022 | 26 January 2023 |
| Part 2 April 2023 | 24 January 2023 | 13 April 2023 |
| Part 3 July 2023 | 25 April 2023 | 13 July 2023 |
| Part 4 October 2023 | 26 July 2023 | 12 October 2023 |
International Construction Law Review